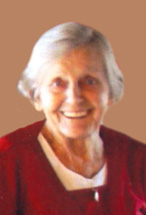 Nanna M. (Sander) Peterson
Laconia, NH – Nanna M. (Sander) Peterson, 89, formerly of Gilford, NH and Largo, FL, died on April 24, 2010 at Genesis Healthcare, Laconia, NH. She was the widow of the late Oscar R. Peterson who died in 1992. They were married for 49 years.
Mrs. Peterson was born on July 18, 1920 in Dorchester, MA, daughter of the late John Richard and Anna Maria (Carlson) Sander. She grew up in the Dorchester and Hyde Park areas of Boston, graduating from Hyde Park High School and the Boston Commercial Business School.
Nan met her husband in 1939 on a Swedish-American Club ski train trip to Conway, NH. She was fond of saying "I met Oscar on that train trip. He asked me to dance and we've been dancing ever since". They were married in 1943 and lived in the Boston area until Mr. Peterson enlisted in the Army Air Corps during WWII. They moved several times during his training and after her husband served in the Asian-Pacific Theater, the couple moved to Walpole, MA and then to Wilton, NH.
Mrs. Peterson was active in Wilton community projects, serving as Girl Scout leader and was also a member of Eastern Star and Rebecca Lodge. In 1961, they moved to Gilford, NH as part of the new New Hampshire Ball Bearing, Inc. management team. At that time, she worked at Palmer Plumbing in Laconia. She also volunteered at the Gilford Elementary School and was active in the Gilford Outing Club, Gilford Old Home Day committees and the former Winnipesaukee Ski Club. The Peterson's retired in 1979 and moved permanently to Largo, FL. During their retirement, they bought a travel trailer and joined the Good Sam's Club and traveled extensively throughout the USA and Canada. In Largo, she worked part-time for ServCorp. She was a founding member of the MM&M Investment Club, a member of the Welcome Newcomers Club and the Regal Park Welcome Lady. She enjoyed traveling, gardening, swimming, using her computer and bingo. Mrs. Peterson moved back to the Lakes Region in August 2009 to be closer to her daughter. She was a lovely addition to the Genesis Healthcare Homestead Wing. The Genesis Center staff provided tender and compassionate care, especially during her last days.
Mrs. Peterson is survived by her daughter and son-in-law, Nancy (Peterson) and Dr. Joseph Paterno, of Gilford, NH, a son-in-law, George Brousaides, of Largo, FL, a daughter-in-law, Mrs. Cecilia (Peterson) Brooks, of Pocatello, ID; four grandchildren, Joanna Paterno Bergman of Gilford, NH, Karl and Adam Brousaides of CT and Emma Peterson of ID; two great grandsons, Bradley and Brendan Bergman of Gilford, NH; a sister-in-law, Mrs. Florence Sander, of Rockford, IL; nieces and nephews and several cousins in Sweden. She is predeceased by three brothers; Harry Sander of Sweden, Arne Sander of Rockford, IL, and Malte Nils Sander of Ponte Vedra, FL. She is also predeceased by her daughter, Diane Brousaides, of Largo, FL in 2009 and by her beloved son, Ronald R. Peterson, of Pocatello, ID in 2002.
Mrs. Peterson was a loving wife, mother, grandmother and friend and will be missed.
There will be no calling hours.
Funeral Services will be private.
In lieu of flowers, donations may be made to Genesis Healthcare (Homestead Wing Activities Fund), 175 Blueberry Lane, Laconia, NH 03246.
Wilkinson-Beane-Simoneau-Paquette Funeral Home & Cremation Services, 164 Pleasant Street, Laconia, N. H. is in charge of the arrangements.