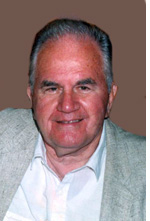 Carl L. Braun, Jr.
Gilford---Carl L. Braun, Jr., 90, of Cherry Valley Road died at the Pine Rock Manor, Warner, N.H. on Thursday, April 22, 2010. He was the widower of Pauline (Tarr) Braun who died in 2008.

Mr. Braun was born April 25, 1919 in Lowell, Mass., the son of Elizabeth (Alexander) and Carl L. Braun, Sr.

Mr. Braun was raised in Lowell. He attended Lowell High School and graduated from New Hampton School For Boys in New Hampton, N.H. and graduated from Boston University where he was an outstanding pitcher for the baseball team. He served in the U. S. Army during WWII and Korea.
He resided in Lowell for many years before moving to Gilford, N.H. thirty-two years ago where he was a real estate broker and owner of Carl L. Braun Realtors in Gilford and Laconia, retiring in 2003.

While living in Lowell, he was the owner and operator of the Commodere Ballroom from the 1940's – 1970's.

Mr. Braun enjoyed fishing and watching sports on television. He loved his family and doted on his three grandchildren and great grandchildren.

Mr. Braun is survived by his daughter, Karen B. Burtt, of Gilford and a son, Carl L. Braun III, of Gilmanton; three grandchildren, Carl L. Braun IV of Sanbornton, Robert A. Braun of Birmingham, Alabama and Noel P. Burtt-Rockwell of Londonderry, N.H.; two great grandchildren, Zachary Carl Braun and Sophia Lorraine Braun.

Calling hours will be held on Monday, April 26, 2010 from 3:00-7:00PM in the Carriage House of the Wilkinson-Beane-Simoneau-Paquette Funeral Home, 164 Pleasant Street, Laconia, N.H.
A Funeral Service will be held on Tuesday, April 27, 2010 at 1:00PM in The Chapel at Lowell Cemetery, 77 Knapp Street, Lowell, Mass.
Burial will follow in the family lot in Lowell Cemetery, Lowell, Mass.
In lieu of flowers, memorial donations may be made to the Alzheimer's Association, 1 Bedford Farms Drive, Suite 105, Bedford, NH 03110.

Wilkinson-Beane Funeral Home & Cremation Services, 164 Pleasant St., Laconia, N. H. is in charge of the arrangements.