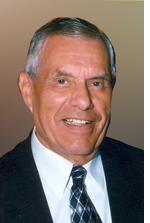 Bernard "Bernie" J. LaCroix
Laconia-----Bernard "Bernie" J. LaCroix, 79, of 281 Pleasant Street, died at the Lakes Region General Hospital on Monday, April 12, 2010.
Bernie was born March 2, 1931 in Laconia, N.H., the son of Raymond and Helen (Morin) LaCroix.
Bernie was a lifelong resident of Laconia/Gilford. He attended local schools and was a 1949 graduate of Laconia High School where he was an outstanding athlete in both football and track & field. He held the State Discus record for twenty five years and in 1983 was inducted into the Laconia High School Hall of Fame. Upon graduation, he attended Georgetown University and East Texas State before entering the U. S. Marine Corps. In 1956, he entered Keene Teachers College, graduating in 1960. In that year, he and his family returned to Laconia where he was a social studies teacher and coached both football and track & field. During the 1970's, he worked part-time time for the local radio station WEMJ as a sports broadcaster and salesman. For years, he broadcasted the Laconia High School football and basketball games. Upon retiring from teaching in 1977, Bernie started working fulltime in sales at WEMJ and WFTN and later at WHOM as general manager. He was self-employed as an advertising executive before retiring in April, 2010 due to illness.
Bernie was a member of St. James Episcopal Church.
Bernie was a member of the Veterans of Foreign Wars Laconia Post #1670, the Laconia Lodge of Elks # 876 and the St. Vincent de Paul Society. He was also a member and former president of the Gilford Rotary Club, a former member of the Laconia Kiwanis Club and a member of the Winnipesaukee Yacht Club.
Bernie enjoyed watching his boys and his grandchildren participating in sports. His grandchildren were his pride & joy.
Survivors include his wife of fifty-six years, Elizabeth "Bette" (Hamel) LaCroix, of Laconia; three sons, David LaCroix and his wife, Dawn, of Gilmanton Iron Works, N.H., Craig LaCroix and Deborah Tyrell of Barnstead, N.H. & Jeffrey LaCroix and Carol Scott of Mendon, Mass.; nine grandchildren, Katharine LaCroix, Nakayla LaCroix, Clifford Coffman, Kanon LaCroix, Christian LaCroix, Tulia LaCroix, Olivia LaCroix Lindsay LaCroix and Timothy Beaulieu; two great grandchildren; a brother, Edward LaCroix, of Placentia, California; a sister, Edna Longo, of Franklin, N.H. and four nephews. He was predeceased by his parents.
There will be no calling hours.
A Memorial Service will be held on Saturday, April 17, 2010 at 11:00AM at St. James Episcopal Church, 867 North Main Street, Laconia, N.H. Rev. William Romer, Interim Priest, will officiate.
Burial will be in the family lot in Union Cemetery, Academy Street, Laconia, N.H.
In lieu of flowers, memorial donations may be made to Community Health & Hospice, Inc., 780 North Main Street, Laconia, N. H. 03246, the American Cancer Society, Two Commerce Drive, Suite 110, Bedford, N.H. 03110 or to the Pulmonary Fibrosis Foundation, 1332 North Halsted Street, Suite 201, Chicago, Illinois 60622.
Wilkinson-Beane-Simoneau-Paquette Funeral Home & Cremation Services, 164 Pleasant Street, Laconia, N. H. is in charge of the arrangements.