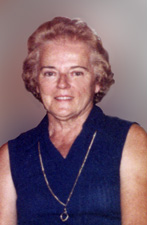 Madeleine A. Champagne
Laconia-Madeleine A. Champagne, 91, of 406 Court Street, formerly of 119 Lafayette Street, died at the Lakes Region General Hospital, on Friday, April 2, 2010.

Mrs. Champagne was born January 9, 1919 in Black Lake, Quebec, Canada, the daughter of Napoleon and Merilda (Pare) Paquet. She was raised in Canada, moving to New Hampshire in 1948. She worked in the cafeteria at Laconia High School for several years. She enjoyed being a homemaker and babysat several children at her home. The parents of these children said they were better raised and educated than when going to school.

Mrs. Champagne was a communicant of Sacred Heart Church and was a member of the Ladies of Sacred Heart. As a devout Catholic she found much solace in her religion.

In addition to her parents, Mrs. Champagne was predeceased by her husband of 63 years, Benoit A. Champagne, who died in 2007.

Mrs. Champagne is survived by her two sons, Marc D. Champagne and his wife, Rachel Turcotte, of Newport, N.H., and Martin D. Champagne and his wife, Sue-Ann, of Newfields, N.H.; two grandchildren, Jeffrey and Jesse Champagne, both of Newfields, N.H.; a sister, Gisele Valliere, and her husband, Robert, of Laconia. Several nephews and nieces also survive her.

There will be no calling hours.

A Mass of Christian Burial will be celebrated at Sacred Heart Church, 291 Union Avenue on Wednesday, April 7, 2010 at 9:30 a.m. Burial will follow in the family lot in Sacred Heart Cemetery, Garfield Street, Laconia.

For those who wish, the family suggests expressions of sympathy may be made in Madeleine's name to St. Francis Healthcare Center Activity Fund, 406 Court Street, Laconia, NH 03246, or to the New Hampshire Humane Society, P.O. Box 572, Laconia, NH 03247, or visit www.nhhumane.org.

Wilkinson-Beane-Simoneau-Paquette Funeral Home & Cremation Services, 164 Pleasant Street, Laconia, N.H. is assisting the family of Madeleine.