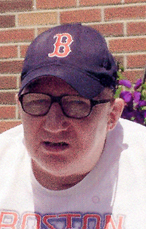 Philip W. Tkach
Send a condolence note
Franklin----Philip W. Tkach, 64, of 7 Baldwin Street, died at the Mountain Ridge Center, on Friday, April 3, 2009.

Mr. Tkach was born September 29, 1944 in Cincinnati, Ohio, the son of the late Andrew and Eldene (Whitaker) Tkach. He grew up in the Lawrence-Methuen, Mass. area and graduated from Tenney High School, Methuen. He later lived in Louisville, Kentucky for several years before moving to the Lakes Region twenty years ago.

Mr. Tkach is survived by a sister-in-law, Nancy Tkach, of Gilford and two nephews, Bret Tkach and his wife, Kate, of New Hampton and Christopher Tkach and his fiancée, Grace Tsuei, of Charlestown, Mass. In addition to his parents, Mr. Tkach was predeceased by his brother, Bert.

There will be no calling hours or funeral service.

Burial will be at a later date in the Resthaven Memorial Park, Louisville, Kentucky.

In lieu of flowers, memorial donations may be made to the Patient Activity Fund- Mountain Ridge Center, 7 Baldwin Street, Franklin, N.H. 03235

Wilkinson-Beane-Simoneau-Paquette Funeral Home & Cremation Services, 164 Pleasant Street, Laconia, N. H. is in charge of the arrangements.