© Copyright 2000 • This site created by Gail Beane - cgbeane@metrocast.net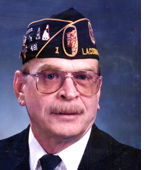 William B. Thayer, Jr.
Send a condolence note
Laconia------ William B. Thayer, Jr., 70, of 52 Strafford Street, died at the Lakes Region General Hospital on Sunday, April 19, 2009.

Mr. Thayer was born July 27, 1938 in Massillon, Ohio, the son of William B. and Martha (Carson) Thayer. He served in the U. S. Army, the U. S. Air Force and the New Hampshire National Guard.

Mr. Thayer was a life member of the American Legion Wilkins-Smith Post No. 1 where he was a very active member, past Commander and member of the Honor Guard. He was also a life long member of the Laconia Rod & Gun Club and a member of the Laconia Lodge of Elks #876.

Mr. Thayer loved to hunt, golf, play pool, barbeque, spend time with family and friends, buy scratch tickets and spending time at his land in Sanbornton. He was an avid golfer and was a member of the Den Brae Golf Course.

Mr. Thayer is survived by his wife, Bettina P. (Lapointe) Thayer of Laconia; three sons, William Thayer III of Laconia, Wayne Thayer of Laconia and Jonathan Thayer of Manchester; three stepdaughters, Carrie Romprey, Tammy Lapointe and Chrissy Ball, all of Laconia; thirteen grandchildren; eight sisters, Adelene Jaimolvicz of Phoenix, Ariz., Elizabeth Frazier of Phoenix, Ariz; Mary Heckman of Illinois, Martha Morehead of Massillon, Ohio, Jean Baker of Uhrichsville, Ohio, Joanne Peacher of Orlando, Florida, Sara Sealy of Laconia and Linda McMillan of Silver Springs, Maryland; three brothers, Billy K. Thayer of Glendale, Ariz., Walter Thayer of Lodi, CA, and George Thayer of Canton, OH and numerous nieces and nephews. In addition to his parents, Mr. Thayer was predeceased by his first wife, Jane Pauline (Couture) Thayer; two brothers, Cecil Thayer and Bud Thayer and a sister Josephine Thayer.

Calling hours will be held from 6:00-8:00PM on Thursday, April 23, 2009 in the Carriage House of the Wilkinson-Beane-Simoneau-Paquette Funeral Home, 164 Pleasant Street, Laconia, N. H.

A Mass of Christian Burial will be celebrated at St. Joseph Church, 30 Church Street, Laconia, N. H. on Friday, April 24, 2009 at 10:00AM by Rev. Gary Kosmowski, Pastor of the Church.

Burial will be on Monday, April 27, 2009 at 10:00AM in the family lot in Sacred Heart Cemetery, Laconia, N. H.

In lieu of flowers, memorial donations may be made to American Legion, Post 1 Color Guard, PO Box 494, Laconia, NH 03247-0494.

Wilkinson-Beane-Simoneau-Paquette Funeral Home & Cremation Services, 164 Pleasant Street, Laconia, N. H. is in charge of the arrangements.