© Copyright 2000 • This site created by Gail Beane - cgbeane@metrocast.net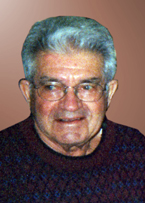 Roger "Pete" J. Snow
Send a condolence note
Gilford-----Roger "Pete" J. Snow, 77, of 340 Lily Pond Road, died suddenly at his home on Monday, April 27, 2009. He was born October 24, 1931 in Laconia, N.H., the son of Thomas J. and Jeanette (Morin) Snow. He lived in Newburyport, Mass. before moving to Gilford twenty-four years ago.
Roger served in the U. S. Air Force during the Korean War. He was employed in the commercial construction business as a supervisor for many years.
Roger was a member of the American Legion Wilkins Smith Post No 1 of Laconia, a member of the Woodside Carvers and the LRGH/Community Wellness Center. He enjoyed fishing and woodworking. He was a craftsman and built many boats.

Roger loved his family and will be missed by many. He is survived by his wife, Ann K. (Alesi) Davis-Snow, of Gilford; two sons, Bruce Alan Snow and his wife, Carol, of Methuen, Mass. and Craig Thomas Snow of Meredith; three daughters, Katheryn A. Campiglio and her husband, Edward, of Raymond, Linda-Jo Demers and her husband, Robert, of Bow and Pamela Nason and her fiancé, Mark Thyng, of Farmington; seven grandchildren; one great granddaughter; two brothers, Richard Snow and Walter Snow both of Tucson, Arizona; a sister, Shirley Snow Witcher, of Belmont; four nieces and seven nephews. In addition to his parents, Mr. Snow was predeceased by a son, Larry Albert Snow.

According to his wishes, there will be no calling hours or funeral service.

In lieu of flowers, contributions can be made in Mr. Snow's name to the Lakes Region General Hospital/Community Wellness Center in Laconia, PO Box 1627, Laconia, N. H. 03247.

Wilkinson-Beane-Simoneau-Paquette Funeral Home & Cremation Service, 164 Pleasant Street, Laconia, N. H. is in charge of the arrangements.