© Copyright 2000 • This site created by Gail Beane - cgbeane@metrocast.net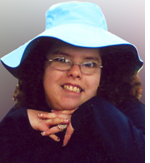 Nicole A. LaPlante
Send a condolence note
Belmont-----Nicole A. LaPlante, 26, of 49 School Street, died at the Lakes Region General Hospital, Laconia on Wednesday, April 22, 2009.

Nicole was born March 6, 1983 in Franklin, N. H., the daughter of Jeffrey R. and Melfy (Perea) LaPlante.

Nicole attended the Austine School for the Deaf in Brattleboro, Vermont and graduated from Winnisquam Regional High School in 2004. She worked for Lakes Region Community Services and volunteered at the Belmont Senior Center and the Franklin Animal Shelter.

Nicole was a very personable young lady who enjoyed life, working and learning new things. She had a good sense of humor and a great smile. Her family was very important to her and she loved animals. Her interests included sign language, crafts and shopping.

Nicole is survived by her father, Jeffrey LaPlante, of Bancroft, Ontario, Canada; her mother and stepfather, Melfy and Steve Wasik, of Aurora, Illinois; stepmothers, Marlene Shay and Shelly Cross, both of Ontario, Canada; her sister and brother-in-law, Michelle & Jacob Dalzell, and a niece, Kailey Ann Dalzell, all of Gilmanton; a maternal grandmother, Marfy Perea, of Boston, Mass.; her paternal grandfather, Ben LaPlante, of Franklin; aunts and uncles, Joe and Grace LaPlante of Northfield, Cindy and Scott Clarenbach of Franklin and Cathy & Richard Widener of New Boston; a great aunt, Lucy Henriquez, of Lowell, Mass.; five cousins; her boyfriend, John Brown, of Belmont; her best friend, Stephanie Harris, of Tilton; her home care providers, Lester and Kelly Miller, Joshua and Shaitanya Miller and their children, Bailee and Noah Miller, Kristina Miller and her children, Kamran and Caleb Miller, all of Belmont and her close friends, Nancy and Paul Mason and their children, Zachariah and Morgan, all of Tilton and Brenda Daly and Lyn Carlson, both of Lakeport.

A calling hour will be held on Tuesday, April 28, 2009 from 2:00-3:00PM at the Wilkinson-Beane-Simoneau-Paquette Funeral Home, 164 Pleasant Street. Laconia, using the Whipple Avenue entrance. A Funeral Service will follow the calling hour at 3:00PM also at the Funeral Home.

In lieu of flowers, memorial donations may be made to the New Hampshire Humane Society, PO Box 572, Laconia, N. H. 03247.

Wilkinson-Beane-Simoneau-Paquette Funeral Home & Cremation Services, 164 Pleasant Street, Laconia, N.H. is in charge of the arrangements.