© Copyright 2000 • This site created by Gail Beane - cgbeane@metrocast.net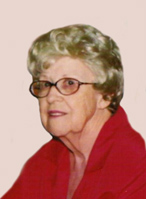 Aurore "Aura" A. (Durette) Landry
Send a condolence note
Laconia-----Aurore "Aura"A. (Durette) Landry, 94, of 44 Warren St., died at the St. Francis Rehabilitation and Nursing Center, on Sunday, April 19, 2009. Mrs. Landry was the widow of Arthur J. Landry who died in 1972.

Mrs. Landry was born May 19, 1914 in Lakeport, N. H., the daughter of Lorenzo and Josephine (Marchand) Durette. She and her husband, Arthur J. Landry, son of Elie and Clodide (Gagnon) Landry were married June 10, 1939.

Mrs. Landry was a lifelong resident of Laconia and was employed at the Cormier Hosiery Mill for many years and was also employed at Laconia Magnetics.

Mrs. Landry was a communicant of St. Joseph Church and a member of the Ladies' Guild. She was as life member of the Veterans of Foreign Wars Auxiliary, Laconia Post #1670.

Mrs. Landry is survived by a daughter, Patricia A. (Landry) Manley, of Laconia; two grandchildren, Patrick R. Manley and his companion, Susan L. Davis, of Laconia and Catherine A. Woods and her husband, Scott, of Selma, Texas; three great grandchildren, Kristan A. Cram, Michael T. Cram and Nathan P. Woods, all of Selma, Texas; two brothers, Oliva "Ollie" Durette, of Columbia, N.H. and George Durette of Columbia, S.C.; a sister, Yvonne Good, of Ashland; her in-laws, Mrs. Edna (Landry) Barton, Roger & Evelyn (Landry) Persons, Jacqueline (Houle) Landry and family and Ismay (Greenwood) Durette and many nieces and nephews. In addition to her parents and her husband, Mrs. Landry was predeceased by her brothers, Michael, Joseph, Wilfred, Homer, Irving and Norman and sisters, Margurite, and Leona and in-laws, Raymond and Juliette Landry, Roger Landry, Harold Barton, Armand and Dorothy (Landry) Levasseur, Eva Durette, Irene (Binette) Durette, Clara (Drake) Durette, Howard Good, son-in-law, Robert L. Manley, and great nephews, Ronald Durette, Robert Durette, Alex Rowson and Ronnie Hurst.

There will be no calling hours.

A Mass of Christian Burial will be celebrated at St. Joseph Church, 30 Church Street, Laconia, NH on Thursday, April 23, 2009 at 10:00AM by Rev. Gary Kosmowski, Pastor of the Church.

Burial will follow in the family lot in Sacred Heart Cemetery, Laconia,

In lieu of flowers, memorial donations may be made to Community Health & Hospice, Inc., 780 North Main Street, Laconia, N. H. 03246 or to the St. Francis Rehabilitation & Nursing Center – Activities Fund, 406 Court Street, Laconia, N. H. 03246.

Wilkinson-Beane-Simoneau-Paquette Funeral Home & Cremation Services, 164 Pleasant Street, Laconia, N. H. is in charge of the arrangements.