© Copyright 2000 • This site created by Gail Beane - cgbeane@metrocast.net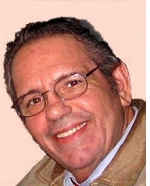 Alan Ross DeRosa
Send a condolence note
Loudon----Alan Ross DeRosa of Loudon, New Hampshire, known for his sense of humor, wit and love of family, died on Tuesday, April 14th in Concord, New Hampshire, after he succumbed to cancer. He was born to Dean DeRosa and E. Lee Bartley on June 16, 1949, in Lawrence, Massachusetts. Alan grew up in North Andover before graduating from Andover High School in 1967 where he was voted "most funny guy" by his classmates despite having Jay Leno in his class. Alan graduated from North Shore Community College in 1971 and Boston University's School of Business Management with a Bachelor's Degree in Accounting in 1973. He later moved to Vermont and then to the Lakes Region in New Hampshire where he raised his family and recently married Rhonda Poire.

Alan is survived by his wife, Rhonda (Pinard) DeRosa, his two children: Jeffrey DeRosa and his companion, Kate O'Connor, and Jonathan DeRosa and his fiancée, Shannon McCurry, all of New Hampshire; a stepson, Jason Poire, and his wife, Barbara; his father, Dean DeRosa of Massachusetts, three siblings: Lee DeRosa, Diane Green and Christopher DeRosa. He also is survived by a niece, Donna Klingman; four nephews, David, Michael, Andrew and Peter DeRosa and two step grandchildren.

He was preceded in death by his mother and his brother, George.

Alan worked in Vermont as an Accountant for Vermont Castings and as Assistant Controller for Vernitron Corp. and Madera Co. in Laconia, N.H. He also ran a small accounting business and was always busy at tax time.

He played baseball and football in high school and was a lifelong Red Sox and Patriots fan. Alan enjoyed scouting and became a Life Scout. He was always passionate about fishing and won many Bass tournaments and trophies. He also was a New Hampshire fishing guide and Alan loved volunteering teaching kids how to fish.

A celebration to honor Alan's life will be held by his close friends and family at his home in Loudon at a later date.

In lieu of flowers, memorial donations may be made to the Concord Hospice House, PO Box 1797, Concord, NH 03302.

Wilkinson-Beane-Simoneau-Paquette Funeral Home & Cremation Services, 164 Pleasant Street, Laconia, N. H.is in charge of the arrangements.