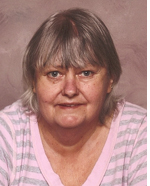 Donna Carignan
Send a condolence note
Belmont-----Donna Carignan, 58, of 115 Hurricane Road, died at her home on Saturday, April 25, 2009.

Donna was born February 1, 1951 in North Haverhill, N.H., the daughter of Ellis R. and Colene I. (Blake) Welch. She lived in Newbury, Vermont before moving to Belmont in 1962. She was self-employed as a day care provider for twenty-six years before retiring in 2008.

Donna was a member of the First Baptist Church of Belmont. She was a very unselfish person; a mother to all. She enjoyed antiques, bottle digging, crafts, and trips to the ocean with all the kids.

Donna is survived by her parents, Ellis R. and Colene I. Welch, of Belmont; three sons, Denis J. Carignan and his wife, Heidi, of Belmont, David E. Carignan and his wife, Sarah, of Gilford, and Daniel R. Carignan of Belmont; three grandchildren, Devin and Sydnei Carignan of Gilford and Emily Carignan of Belmont; two brothers, Robert Welch of Gilmanton and Paul Welch of Belmont; one nephew and one niece.

There will be no calling hours.

A Memorial Service will be held on Saturday, May 23, 2009 at 2:00 PM at the First Baptist Church of Belmont, 49 Church Hill, Belmont, N.H. Rev. James F. Smith, Pastor of the Church, will officiate.
In lieu of flowers, memorial donations may be made to the American Cancer Society, 2 Commerce Drive, Suite 110, Bedford, N.03110.

Wilkinson-Beane-Simoneau-Paquette Funeral Home & Cremation Services, 164 Pleasant Street, Laconia, N.H. is in charge of the arrangements.