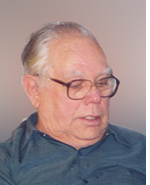 Roland R. Blanchette
Send a condolence note
Mechanic, Well Driller, Carpenter

Belmont-----Roland R. Blanchette, 82, of Belmont, died at the Lakes Region General Hospital, Laconia, after a short illness, on Sunday, April 12, 2009 with his loving family at his bedside.
Mr. Blanchette was born in Laconia, N. H. on May 13, 1926 to Lela (Savage) Blanchette and Zoel Blanchette.
Mr. Blanchette attended Laconia High School and enlisted in the U. S. Army Air Force during WWII. He enjoyed inventing many working items, built his home, rejuvenated one old house which he received an award for, built and owned Shady Oaks Apts. in Belmont for eighteen years. He also was maintenance man for Hueber Lumber for several years.

Mr. Blanchette loved fishing, hunting, gardening and his loving family, especially at Christmas time every year. He was a communicant of St. Joseph Church, Laconia.

Mr. Blanchette is survived by his wife of fifty-nine years, Leatric "Lee" (Derosia) Blanchette of Belmont; two sons and daughters-in-law, Gene Blanchette, and his wife, Valerie, of Landaff, N.H. and Paul Blanchette and his wife, Claudette, of Belmont; one granddaughter, Audra Blanchette, of Laconia; two grandsons, Michael Blanchette and his wife, Kristie, of Laconia and; Jake Blanchette,of Landaff, N.H.; one great grandson, Andre Blanchette, of Laconia and several nephews, nieces, and cousins. In addition to his parents, Mr. Blanchette was predeceased by his sisters, Irene Gordon, and her husband, Dan, of Newton Center, Mass. and Louise Hewitt and her husband, Carroll, and their infant daughter, Deborah Jean Hewittt, of Sanbornton.

There will be no calling hours. A graveside service will be held at a later date in the family lot in Sacred Heart Cemetery.

In lieu of flowers, donations may be made to St. Vincent dePaul, 1269 Union Avenue, Laconia, N. H. 03246 or to Community Health & Hospice, Inc., 780 North Main Street, Laconia, N. H. 03246.

Wilkinson-Beane-Simoneau-Paquette Funeral Home & Cremation Services, 164 Pleasant Street, Laconia, N. H. is in charge of the arrangements.