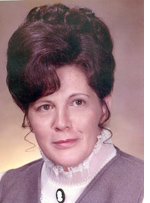 Elaine G. Miller

West Franklin------Elaine G. Miller, 79, of 355 N. Main Street, died at the Concord Hospital, Concord on Saturday, April 18, 2009.

Mrs. Miller was born April 25, 1929 in Sandwich, N. H., the daughter of Clarence and Harritte (Comet) Robinson. She had been a resident of West Franklin for thirty-five years coming from Laconia

Mrs. Miller had been employed as a CNA at the Merrimack County Nursing Home for many years.

Mrs. Miller is survived by her husband, Raymond E. Miller, of West Franklin; three sons Ronald Reister and his wife, Liz,, of Franklin, Raymond Miller, Jr. of Lakeland, Florida and Michael Miller of Massillon, Ohio; five daughters, Donna (Plourde) Theriault and her husband, Robert, of Franklin, Harriet Corbin and her husband, William, of Laconia, Kathy Piroso and her husband, Peter, of Penacook, Melanie E. Weeks-Bell and her husband, Warren, of Northfield and Sylvia A. Dever, of Valrico, Florida; twenty-two grandchildren; twenty-eight great grandchildren and one great great granddaughter; a brother and sister-in-law, Clarence and Beverly Robinson of Sanbornton and many nephews and nieces. In addition to her parents, Mrs. Miller was predeceased by a son, James Plourde, two brothers, one sister; a grandchild, Meagan D. L. Morrill in 2008 and by a great granddaughter, Kayla Hannah Morrill, in 1999.

Calling hours will be held on Wednesday, April 22, 2009 from 7:00-9:00PM in the Carriage House of the Wilkinson-Beane-Simoneau-Paquette Funeral Home, 164 Pleasant Street, Laconia, N..H.

A Funeral Service will be held on Thursday, April 23, 2009 at 11:00AM also at the Funeral Home.

Burial will follow in the family lot in Bayside Cemetery, Laconia, N. H.

In lieu of flowers, memorial donations may be made to the New Hampshire Humane Society, PO Box 572, Laconia, N. H. 03247.

Wilkinson-Beane-Simoneau-Paquette Funeral Home & Cremation Services, 164 Pleasant Street, Laconia, N. H. is in charge of the arrangements.